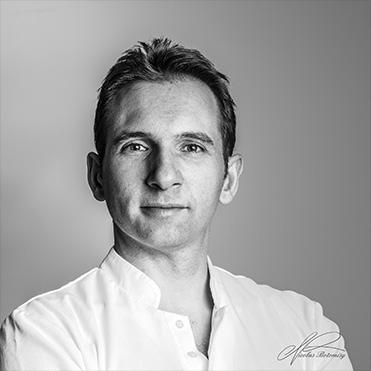 October 20, 2020 1:00 pm
$75 per class, $200 for three day pass
Tomric's professional class series is going digital! No matter where in the world you are, you can now virtually attend our professional training sessions with chef Nicolas Botomisy. Chef Nicolas will be hosting three unique sessions across three days – each focusing on a different technique: Candy, Caramel & Snacking Bars, and Panning. Each session is broadcast live from the Tomric Innovation Center in Buffalo, NY, and is fully interactive. All attendees will be able to ask questions, make comments, and learn new techniques & recipes, all while getting live feedback from chef Nicolas.
Registration has now passed.
About Chef Nicolas Botomisy:
Chef Nicolas Botomisy started his career in the south of France at the 2 Michelin starred restaurant, Relais de la Poste with Chef Jean Cousseau where he developed his attention to detail and knowledge of taste.
He then went to the UK, to the 3 Michelin starred restaurant, Waterside Inn with Chef Michel Roux, where he extended his skills on plate presentation, and texture. Chef Botomisy then moved to Paris where he worked for 2 and 3 Michelin starred restaurants such as Carré des feuillants with Chef Alain Dutournier and the Four Seasons Hotel George V with Chef Fabrice Lecleir, where he spent 7 years.
It was in 2012 that Chef Botomisy started working for Valrhona as a Pastry Chef at L'Ecole Valrhona in Tokyo, Japan where he deepened his passion for fine pastries and sense of creativity. Then in 2016, he moved to the US as the new L 'École Valrhona Pastry Chef – Eastern USA. Working for Valrhona allowed him to meet and learn from amazing people around the world in Asia, Oceania, Europe, and in North America.
In 2018, Chef Botomisy began a new chapter and challenge, opening a pastry and chocolate shop in Tokyo with friends and partners – a wish he's had for many years. While staying and living in the US, he visits Tokyo often, while teaching classes and attending events as a consultant in the USA and worldwide.
Tomric Innovation Center
85 River Rock Dr.
Buffalo, NY 14207