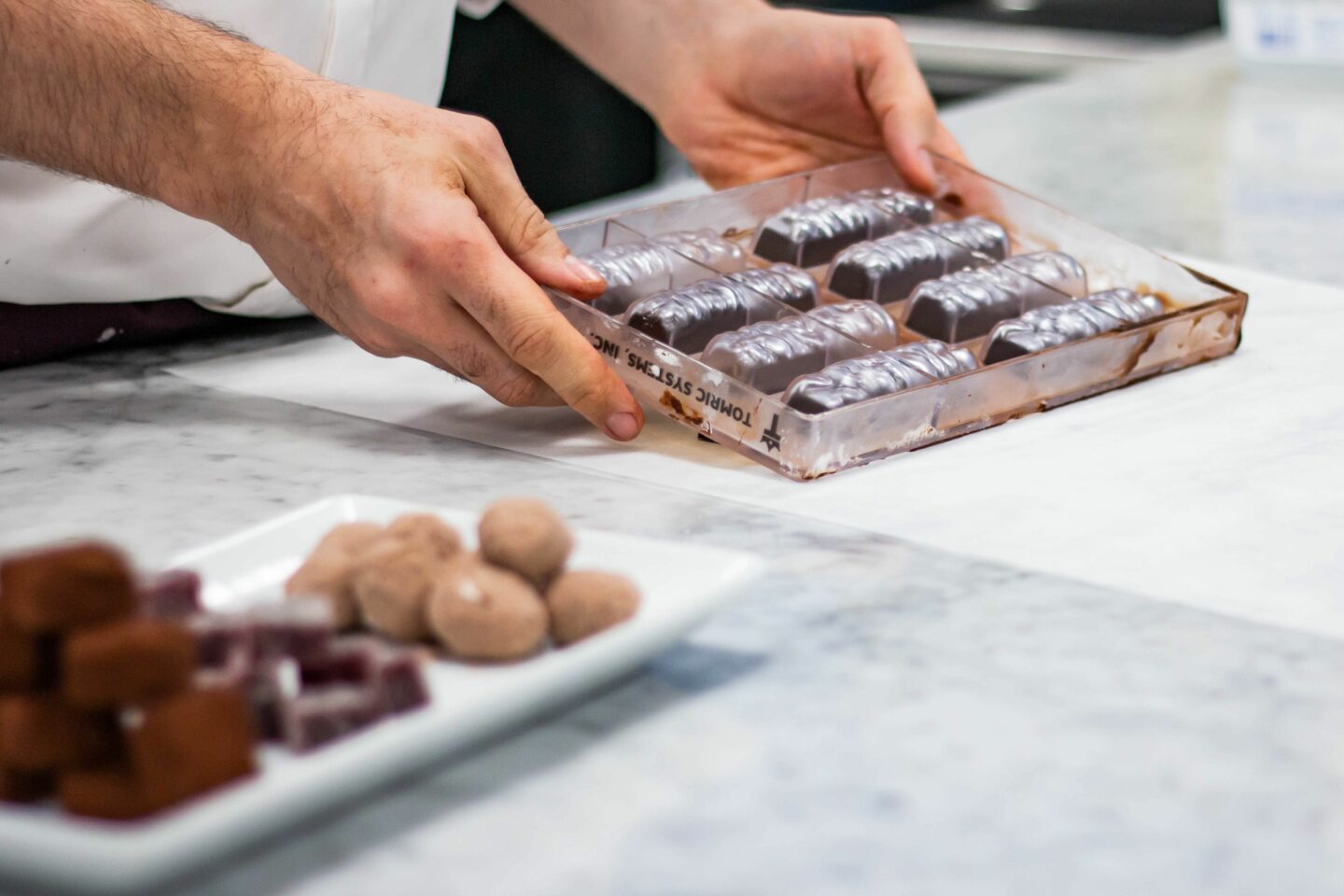 Caring for your Molds
Because our molds are made of polycarbonate plastic, upkeep is minimal. At the end of the season, molds typically need to be washed, well rinsed, dried, and stored in a cool, dry location. If maintained, the molds will have a shiny finish and release a nicely glossed piece of chocolate.
Cleaning Tips
Wipe with a soft cloth in clear, warm water.
DO NOT use an abrasive cleanser. If molds become coated with cocoa butter, wash with a mild grease-cutting detergent. Use detergent sparingly and avoid scratching the inside surface of the molds.
Rinse in clear, cool water.
Dry and store in a cool location.
Use molds at room temperature.
Polycarbonate Plastic Washing Recommendations
Below are some general guidelines to consider for the proper care for polycarbonate plastic chocolate molds. Please note: if you have questions about how your specific washing/detergent/rinsing agent you use may affect polycarbonate plastic, please contact your supplier.
Detergent and Rinse Aid Recommendations
Non-alkaline
Non-chlorinated
Non-tainting
Low foaming
Neutral pH – as near to 7 as possible and not to exceed 9
Note: Many chocolate producers do not use detergents or rinse aids in their process. Some proprietary cleaning products may contain chemicals that can degrade polycarbonate. We strongly recommend that you carry out tests to check the compatibility of any solution that you plan to use on your molds. Many detergents and rinse aid suppliers will assist you with this evaluation process.
Washing Conditions
Water has a hydrolytic effect (the decomposition of material by use of water) on polycarbonate, which causes polymer degradation. This effect is time- and temperature-dependent, with higher temperatures causing quicker degradation. Increasing pH values will also accelerate polymer degradation. At temperatures up to 122˚F (50˚C) the hydrolytic effect is slow and can be largely ignored. At temperatures above 122˚F (50˚C), the hydrolysis degradation accelerates. We recommend limiting the wash temperature to a maximum of 140˚F (60˚C).
The following are guidelines for mold washing. Please note, these are general guidelines only and you should check with your supplier of detergent/rinse agent for complete information.
Washing Guidelines
Pre-Wash

Recommended Max Temp: 140˚F/60˚C
Water Type: Soft
Contact Time: 10 seconds upwards
Detergent: None

Main Wash

Recommended Max Temp: 140˚F/60˚C
Water Type: Soft
Contact Time: 15 seconds upwards
Detergent: Detergent

Rinse

Recommended Max Temp: 140˚F/60˚C
Water Type: Soft
Contact Time: 10 seconds upwards
Detergent: No detergent or rinse aid

Final Rinse

Recommended Max Temp: 131˚F/55˚C
Water Type: Soft/Demineralized
Contact Time: Minimum
Detergent: Rinse aid in water