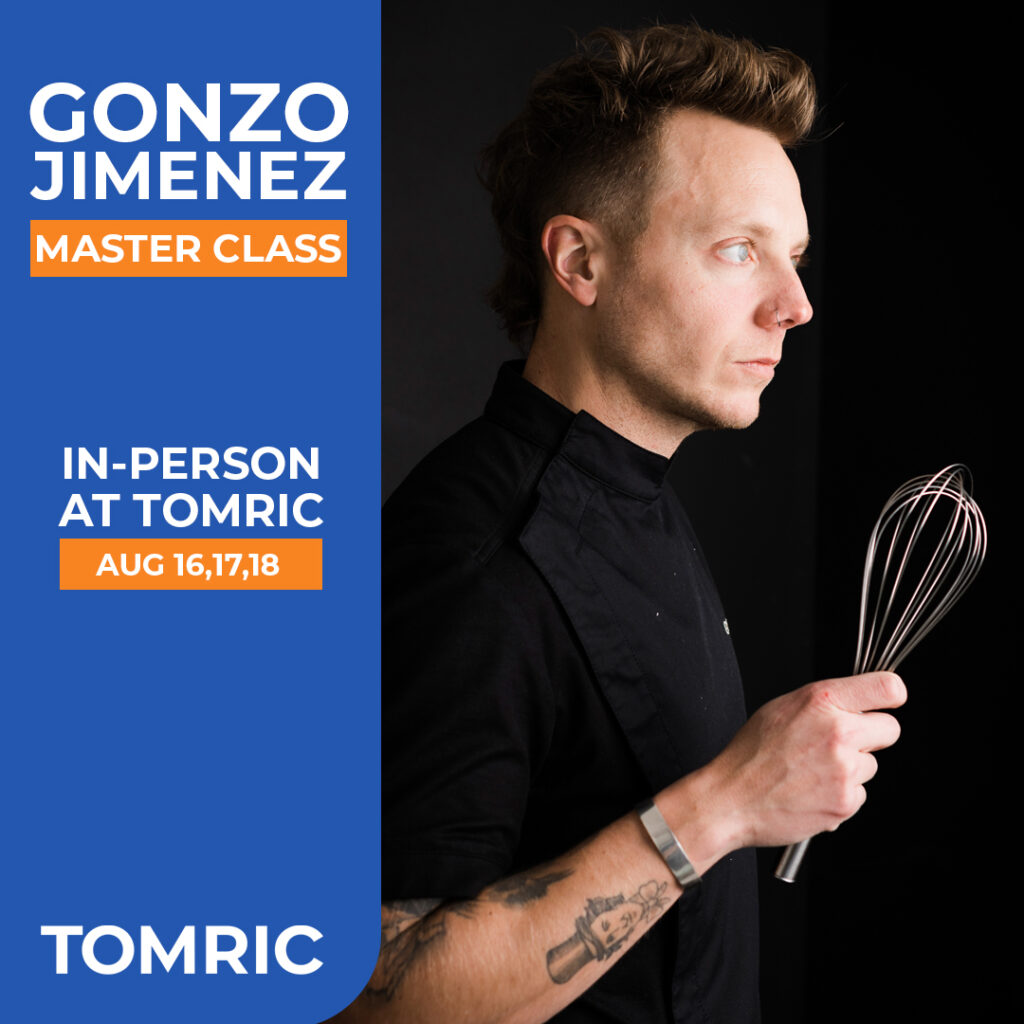 August 16, 2022
$945 ($200 due at time of purchase)
About This Class:
In-person classes are back at Tomric! For this class, Chef Gonzo will demonstrate many of his signature techniques for sculpted chocolate showpieces.
During this course, Chef Gonzo will be teaching a hands-on class on modern chocolate figurines and amenities. Small modern holiday pieces designed for hotels, pastry shops, and retail operations. Check out the photo gallery above for some examples of his work in this category.
About In-Person Classes at Tomric:
If you have never taken a class at Tomric, here is what you can expect. Each participant will have a fully stocked workstation (including all necessary ingredients, tools, and equipment) in the teaching lab at the Tomric Innovation Center. As the presenting chef demonstrates their recipes and techniques, you will be able to follow along and ask questions as you put into practice what is being taught. Breakfast and Lunch are provided by Tomric. Participants are responsible for their own travel and hotel accommodations.
At the end of the course, you will be presented with a certificate of completion signed by the chef and Tomric.
About Chef Gonzo Jimenez:
Chef Gonzo Jimenez was born in Northern Argentina and raised in a Spanish household surrounded by good food and long family meals. At the age of 17, he started working in restaurants and fell in love with the culinary world. He enrolled in pastry and culinary school in Buenos Aires. After completing his studies, he traveled around the country working for 5-star hotels and celebrity chefs.
From 2009 to 2013, Chef Gonzo worked for large hotels in the United States including the St. Julien in Boulder, CO, and The Hyatt Corporation in New Orleans and New York. Most notable among his various accomplishments throughout this period was the launch of his personal line of chocolates, providing different hotels throughout Manhattan, NY with high-end confections.
In 2013, he moved back to South America to work at the Grand Hyatt Hotel in Santiago de Chile. Soon after he accepted a highly coveted position with Barry Callebaut as a Corporate Chef for the South American Region and Director of the Chocolate Academy in Chile.
Chef Gonzo has traveled throughout North and South America teaching classes and performing demos. His work and creations have been published in European and North American pastry magazines such as SoGood, Dulcypas, Dessert Professional, New York Times, etc.
Currently, the Netflix show Bakesquad has launched Chef Gonzo's career into a different dimension, showcasing his chocolate art skills globally and turning him into a celebrity chef.
He is currently the Chef and technical advisor for Republica del Cacao in the US and Canada, and co-owner of Miette et Chocolat in Denver Colorado.
Tomric Innovation Center
85 River Rock Dr.
Buffalo, NY 14207