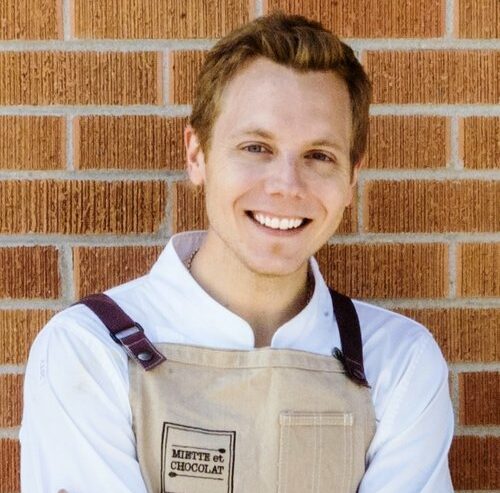 We are excited to announce Chef Gonzo Jimenez will be leading a three-day culinary course live from the Tomric Innovation Center. His course will be live-streamed from the Tomric Innovation Center. Two, three-day sessions are available for this class. The English-language session runs from 10:00 a.m. EST to 12:30 p.m. EST all three days. The Spanish-language session runs from 2:00 p.m. EST to 4:30 p.m. EST all three days.
This course will focus on innovative chocolate techniques and concepts, revisiting classic American desserts and traditional flavors and combining slick modern presentations and eye-catching confections. This class is interactive, allowing for participants to ask questions and receive feedback during the demonstrations.
You will be contacted with information on how to join the live stream via the email you provide at checkout.
Para obtener información sobre el evento y inscribirse para la sesión en español, haga clic aquí.
Registration:
Click here to register for the English-language session.
Click here to register for the Spanish-language session.
About Chef Gonzo:
Chef Gonzo Jimenez was born in Northern Argentina, raised in a Spanish household surrounded by good food and long family meals. At the age of 17, he started working in restaurants and fell in love with the culinary world. He enrolled in pastry and culinary school in Buenos Aires. After completing his studies, he traveled around the country working for 5-star hotels and celebrity chefs.
From 2009 to 2013, Chef Gonzo worked for large hotels in the United States including the St. Julien in Boulder, and the Hyatt Corporation in New Orleans and New York. Most notable amongst his various accomplishments throughout this period was the launch of his personal line of chocolates, providing different hotels throughout Manhattan, NY with high-end confections.
In 2013, he moved back to South America to work at the Grand Hyatt Hotel in Santiago de Chile. Soon after he accepted a highly coveted position with Barry Callebaut as a Corporate Chef for the South American Region and Director of the Chocolate Academy in Chile.
Chef Gonzo has traveled throughout North and South America teaching classes and performing demos. His work and creations have been published in European and North American pastry magazines such as Dulcypas from Barcelona, Dessert Professional, and the New York Times.
He is currently the co-owner and chocolatier of Miette et Chocolat, as well as one of the chefs for Republica del Cacao.
About Tomric:
We began by making high-quality polycarbonate chocolate molds in 1962. Over the years, we've evolved into being the pioneer in the design, manufacture, distribution, and sale of chocolate molds, equipment, packaging, tools, and utensils. We deliver complete systems to the confectionery and baking industries at all levels worldwide.
With so many years of experience in the industry, Tomric is uniquely able to serve as a single-source solution for large-scale producers and mom-and-pop chocolatiers alike – as well as customers outside the confections industry.  From start-to-finish, we work to develop solutions for everything including custom molds, one of the largest selection of stock molds in the world, custom and stock tray packaging, professional confectionary equipment, packaging equipment, culinary accessories, training, and educational resources, and the continuing service and support Tomric is known for. Whether you're looking to streamline your production, create a custom mold, or anything in-between, get in touch with Tomric today.
Tomric Innovation Center
85 River Rock Dr.
Buffalo, NY 14207