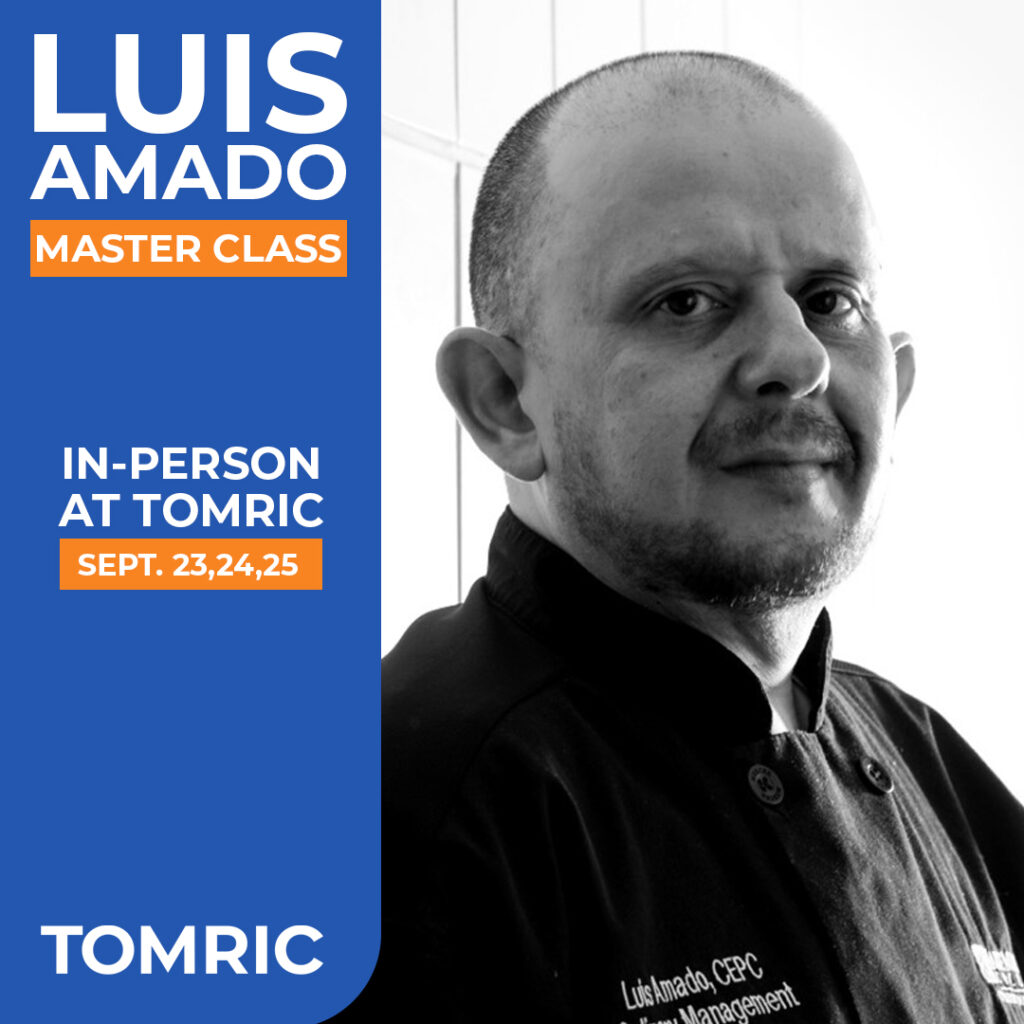 September 23, 2022
$945 ($200 due at time of purchase)
About This Class:
In-person classes are back at Tomric! For this class, Chef Amado will demonstrate many of his signature chocolate decorating techniques for molded, dipped, and enrobed bonbons.
The class will be focused on designs and techniques which you will be able to reproduce and add your own twist and personality.
Different fillings and decorating finishing touches will be covered, including:
– Velvet effect
– Satin finish
– Wood finish
– Shiny finish
– Matte finish
– Cage effect
– Time-saving production methods
– Creating intricacies with the fillings
Location: Tomric Innovation Center: Buffalo, NY (85 River Rock Dr #202, Buffalo, NY)
About In-Person Classes at Tomric:
If you have never taken a class at Tomric, here is what you can expect. Each participant will have a fully stocked workstation (including all necessary ingredients, tools, and equipment) in the teaching lab at the Tomric Innovation Center. As the presenting chef demonstrates their recipes and techniques, you will be able to follow along and ask questions as you put into practice what is being taught. Breakfast and Lunch are provided by Tomric. Participants are responsible for their own travel and hotel accommodations.
At the end of the course, you will be presented with a certificate of completion signed by the chef and Tomric.
About Chef Luis Amado:  A native of Guadalajara Mexico, Chef Amado began his career at the age of 16 selling churros in the streets of Guadalajara, Mexico. He moved to Michigan to study culinary arts and graduated from GRCC in 1992, he then traveled to Europe and worked in Belgium to develop his knowledge of classical European Pastry and chocolate.
He returned to the US in 1994 and worked as Executive Pastry Chef in various fine dining establishments. Currently, he runs the Culinary Management Program at Lake Michigan College MI, where he develops curriculum, teaches classes, and coaches students for national and international competitions. He owns Luis Amado Chocolate Academy in Stevensville, Michigan where he offers personalized and small group chocolate classes to students from around the globe. His chocolate work has been featured in numerous magazines including The ACF National Culinary Review, Revista Dulcypass, and the prestigious So Good Magazine.
Chef Amado is very passionate about competitions, he has more than 22 gold medals and 6 best of shows awards from highly recognized competitions including the "1996 culinary Olympics " in Berlin Germany, The 2000 National Dessert Competition, Numerous ACF Approved Culinary Arts Salons, The Great Lakes Regional 1999-2003, and most recently the 2017 AUI Chocolate Cup in Washington DC.
In the summer months, he travels to Europe, The Middle East, and Latin America to teach workshops and seminars to professional chefs and serious chocolate enthusiasts.
Tomric Innovation Center
85 River Rock Dr.
Buffalo, NY 14207