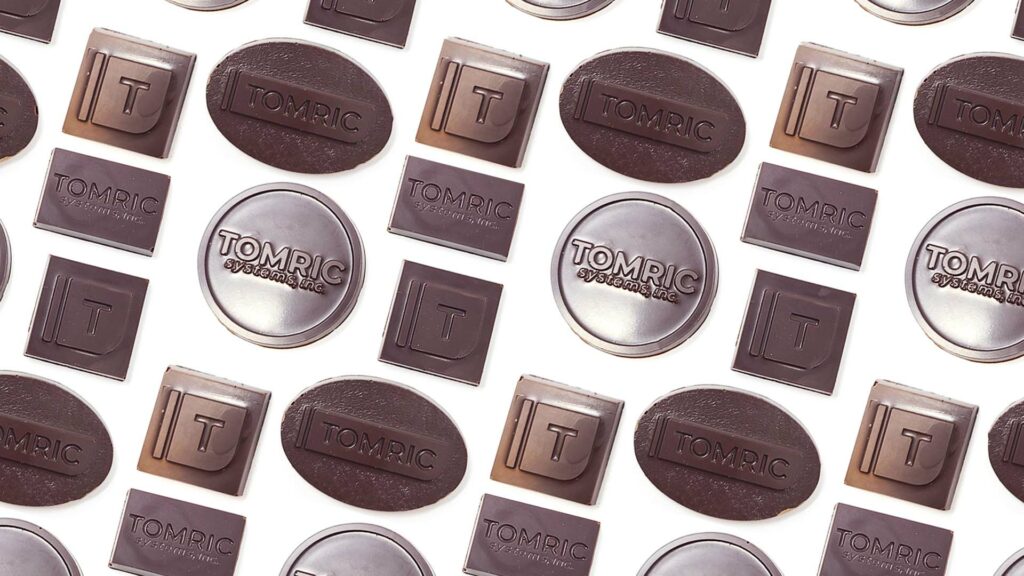 HOW THIS PROGRAM WORKS
Our Logo Piece program is specifically designed for customers who want to create small bite-sized chocolates with their logo or other small design on each piece. With this program, start by choosing the cavity (piece) count per mold. Next, choose one of eight shapes that you would like your logo applied to. Finally, choose the size you would like the pieces to be. Piece sizes can be selected from a range of preset sizes from 1″ to 2.25″ inches.
After you have provided all your relevant information and uploaded your artwork/design files, our team will provide you with an art proof for approval. Upon approval, we create a metal engraving of your design and produce the final polycarbonate molds.
| | |
| --- | --- |
| CHOOSE YOUR CAVITY COUNT | CHOOSE YOUR PIECE SHAPE |
| | |
| --- | --- |
| CHOOSE YOUR PIECE SIZE | UPLOAD YOUR ARTWORK |
CAVITY COUNT OPTIONS
With the Logo Piece program, there are three different cavity layout options. The total cavity count will affect the size of the mold, but will not change the individual piece size that you choose.
6 CAVITY


TOTAL COST: $525*
Includes rendering.
Includes 10 mold minimum.

8 CAVITY


TOTAL COST: $675*
Includes rendering.
Includes 10 mold minimum.

10 CAVITY


TOTAL COST: $800*
Includes rendering.
Includes 10 mold minimum.
*Shipping not included. Prices indicated include the 10 mold order minimum. Additional molds are available for $12.50 each.
PIECE SHAPE OPTIONS
This program offers eight standard shapes to choose from. Your design will then be applied within the shape of your choice. If you don't see the shape you are looking for, talk to our team about starting a full custom project.
| | | | |
| --- | --- | --- | --- |
| SQUARE | CIRCLE | RECTANGLE | OVAL |
| | | | |
| --- | --- | --- | --- |
| HEXAGON | OCTAGON | TRIANGLE | DIAMOND |
PIECE SIZE OPTIONS
Next, you need to pick a size for your pieces. There are six preset sizes available, ranging from 1 inch to 2.25 inches. You can select a different piece length AND width from these options. Square, circle, hexagon, and octagon pieces must have the same length and width to maintain proportions. All pieces will have a depth of .25 inches.
SAMPLE PIECE
PRESET SIZES
LENGTH
| | | | | | |
| --- | --- | --- | --- | --- | --- |
| 1″ | 1.25″ | 1.5″ | 1.75″ | 2″ | 2.25″ |
WIDTH
| | | | | | |
| --- | --- | --- | --- | --- | --- |
| 1″ | 1.25″ | 1.5″ | 1.75″ | 2″ | 2.25″ |
SUBMIT YOUR ARTWORK AND INFO
To get started on a project, submit you art/logo file and contact info. Vector files (such as .ai or .esp) are preferable, but high resolution and dark colored .pdf, .jpg, .png, and .tif files are typically acceptable (an additional art fee may be required). After we review your submission, our team will reach out with more info.
Frequently Asked Questions
Can I create a mold with more than 10 cavities?
No. All options for the Logo Piece program must be selected from the predetermined configurations. If you wish to create a mold design outside of these options, talk to our team about a full custom project.
Why type of art files are acceptable?
Vector files such as .ai or .esp (preferably in black and white) are ideal, and can be used without an additional art fee.  High resolution .pdf files are also acceptable. Raster artwork (.gif, .jpeg, .png .tif,) saved as .ai or .eps is NOT ACCEPTABLE.
For best results, font size should be at 10pts (1/16") or greater with a SANS SERIF type (Fine lettering may not show up and will need to be changed).
If you are unable to supply the correct file type, our skilled Creative Services Team will re-create your artwork for you for an additional fee.
No. Listed prices do not include shipping. Shipping costs will be determined by your location and total number of molds you order.
What are the molds made of?
All molds in the Logo Piece program are made of food-grade polycarbonate. All molds come standard with .060 gauge plastic. If you wish to use thicker .080 gauge plastic, that options is available at an additional cost.