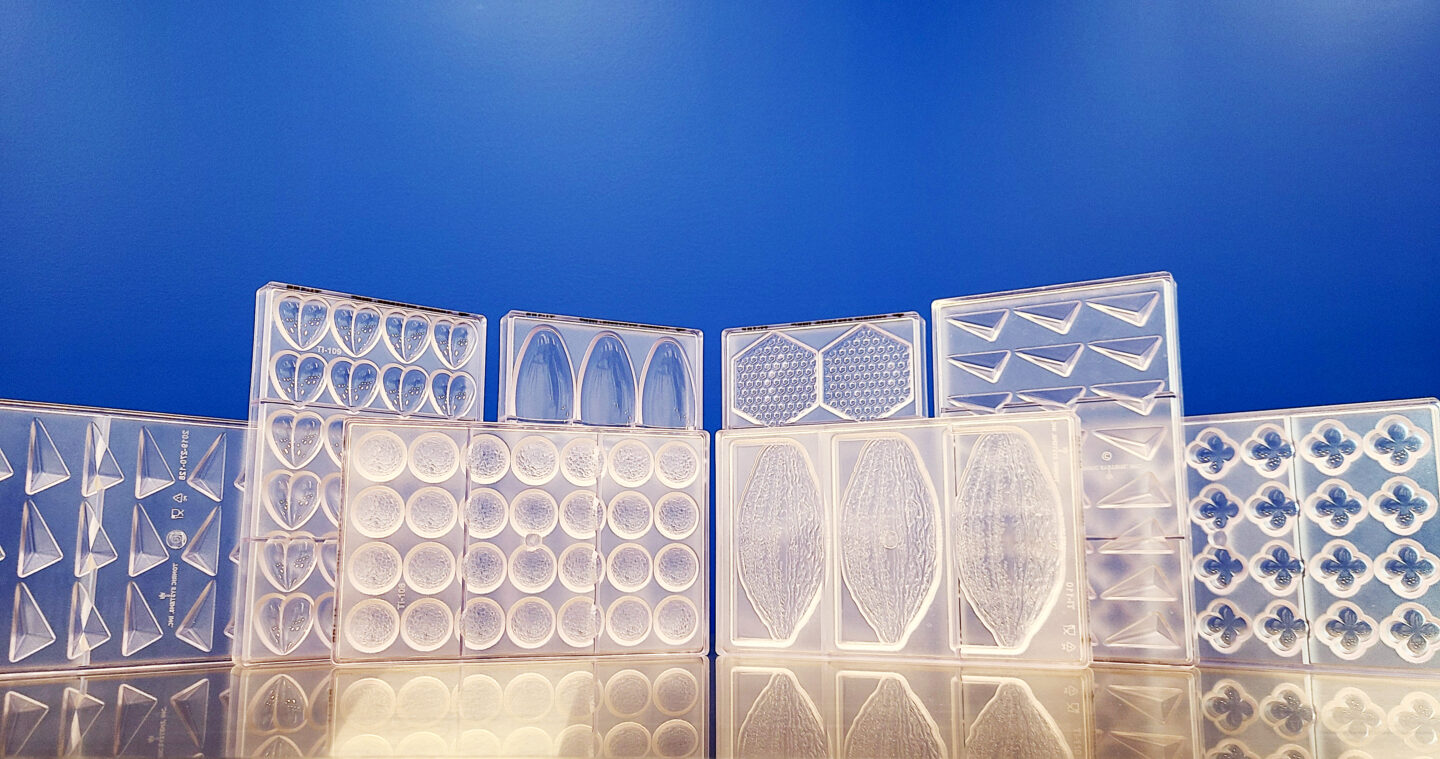 Full Custom Injection
Precise Custom Designs for Professional Chocolate Makers
If you can imagine it, we can help you create it in chocolate. When you design a custom mold with Tomric, you can get the exact design, details, measurements, and layout you need to bring your vision to life. Whether you need to replicate a real object in chocolate, design a piece down to the specific gram, or get your own artwork from the screen and into chocolate – we have done it all.
All of our custom injection molds are manufactured by our trusted partner, Implast. All custom molds are made of high-quality and durable injection-molded polycarbonate. Not only does this manufacturing process allow for incredible detail and strength, it also makes injection molds stackable and suitable for use on automated production lines.
Examples of Injection Molds
Thermoformed vs Injection Style Molds
At Tomric, we manufacture and sell both thermoformed style (vacuum formed) and injection style polycarbonate molds. While both types result in high-quality chocolate molds, there are a few key differences to be aware of.
Due to the manufacturing process, injection molds are more rigid and can be used on automated lines with stackable mold loaders.
Thermoformed molds have some flex and are ideal for anyone hand-filling molds or using a depositing head.
Both styles can produce detailed designs, but injection molds will translate fine details and texture better.
Thermoformed molds are typically more affordable, especially when working with large or 3D molds.
FAQs
Answers to frequently asked questions about custom injection molds.
What type of designs can be created?
Because we work directly with you to develop the mold, nearly any flat design is possible. The types of designs possible are categorized as follows:
Bars (plain, etched, or sculpted)
Break-up bars
Prism/geometric designs
Pralines/Bon bons (various shapes used for filled chocolate)
Sculpted 3D Pieces (flat-backed pieces with dimensional fronts)
For Full 3D (two-piece) custom molds, see the custom thermoformed mold page.
What size molds can we make?
Within a mold, individual cavities can be customized to almost any size. However, overall mold dimensions are available in several standard sizes. We can usually accommodate larger or different sizes than lasted below, but additional time and tooling costs are required.
Mold layouts specifically for Awema and Knobel lines are also available.
Mold Sizes:
275 x 135 mm
275 x 175 mm
275 x 205 mm
300 x 205 mm
300 x 225 mm
380 x 295 mm
425 x 325 mm
What type of reference material can we use?
When creating a custom mold, we want to create a design that looks exactly how you envisioned it. This is made easier when quality reference images or materials are provided. If the idea only exists in your head, even a simple drawing is a good place to start. Documents we can accept include:
Photographs or drawings
Google Images
Logos or other branding
Layout or description of the mold
PDF mock-ups
.ai or .esp files (preferred)
.jpeg. .gif, .png files (less ideal but acceptable)
.STL or .IGES files (preferred for complex designs for CNC machine)
Please note that we can't recreate artwork, logos, or other copyrighted materials that the customer does not own or have the rights to use.
Is there a minimum mold order?
Yes. All new custom injection projects have a minimum mold order requirement of 100 molds. However, once the initial tooling and mold order are complete, any reruns on the design can be ordered in any amount.
How are custom projects billed?
Each custom project is completed and billed in phases. We require a deposit in Phase 1 (creation of the digital rendering) and a rough shipping amount to begin the project. If at any point the project is cancelled, we will only charge for any work completed on our end.
Ready to start a custom project or want to learn more?
Our experts are here to help.