Vanilla Marshmallow
December 16, 2021
|
kmartin
As the weather gets colder and winter approaches, now is the perfect time to enjoy a nice warm cup of hot chocolate. And what goes better with hot cocoa than fluffy handmade marshmallows? This Vanilla Marshmallow pays respect to the classic favorite but with elevated ingredients like real vanilla bean. This recipe is also perfect for enrobing with a Selmi enrober.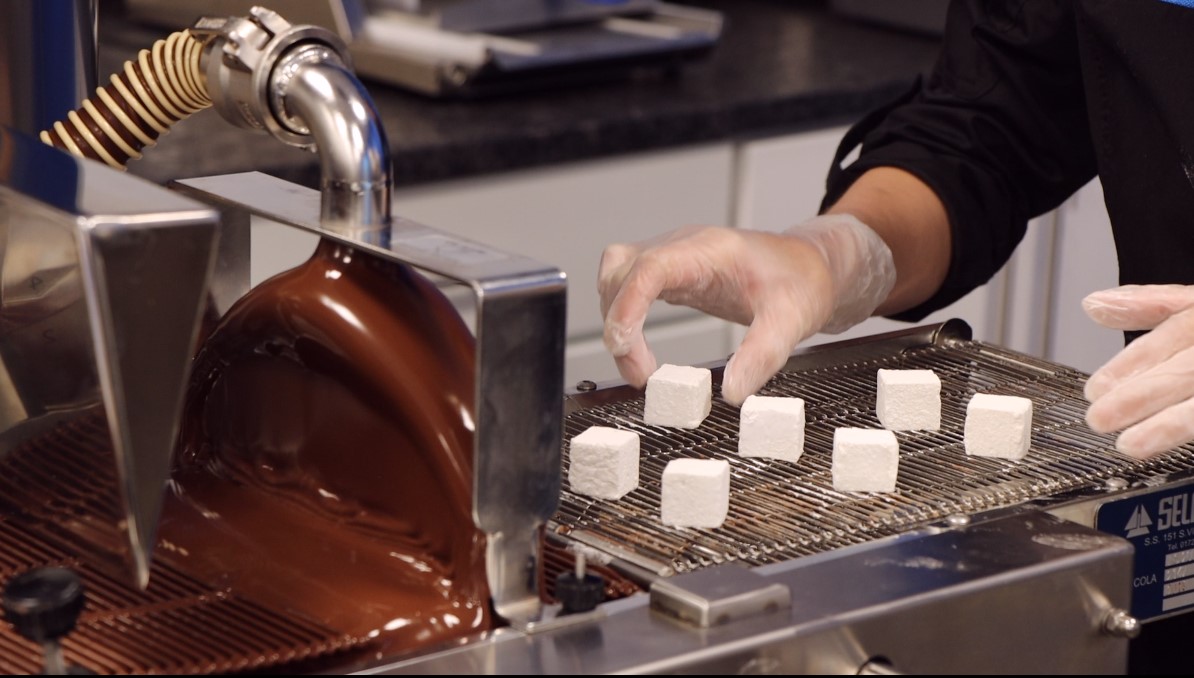 Ingredients:
| | |
| --- | --- |
| Gelatin | 65g |
| Water | 345g |
| Sugar | 1020g |
| Trimoline | 165g |
| Corn Syrup | 165g |
| Water | 255g |
| Vanilla Bean | 2 pcs |
| 10x/Cornstarch for dusting | |
Equipment Needed:
Scale
Medium-large pot
Mixer
Whisk attachment
Frame M1084
Rubber spatulas
Flat sheet pan
Thermometer
Sifter
Brush
Small bowl of water
Procedure:
Place M1084 Frame and silicone mat on top of a flat sheet pan. Dust with 10x/corn starch mixture.
Hydrate gelatin in 345g water. Melt completely in microwave and set aside.
Place sugar, glucose syrup, trimoline, corn syrup and water in pot and place on medium high heat. Wash sides of pot down with brush and small bowl of water.
Cook to 252F
Pour into mixer. Let cool to 212F
Add in melted gelatin and vanilla bean scrapings. Mix into sugar syrup. Whip on high until well aerated.
Pour into pre-prepared silicone mat and M1094 Frame.
Let dry overnight.
Cut on Guitar using 22.5mm guitar frame. Separate and dust with 10x/corn starch mixture.
Yields approximately 260 pcs.
Equipment Used in This Recipe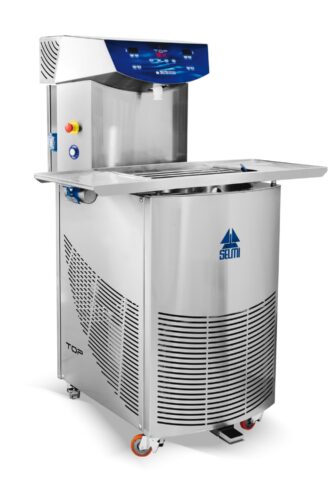 A-1400EX
Selmi
Designed with the industrial and large chocolate maker in mind. This machine is required to operate the larger cooling tunnels and automatic bar molding line.